Constructor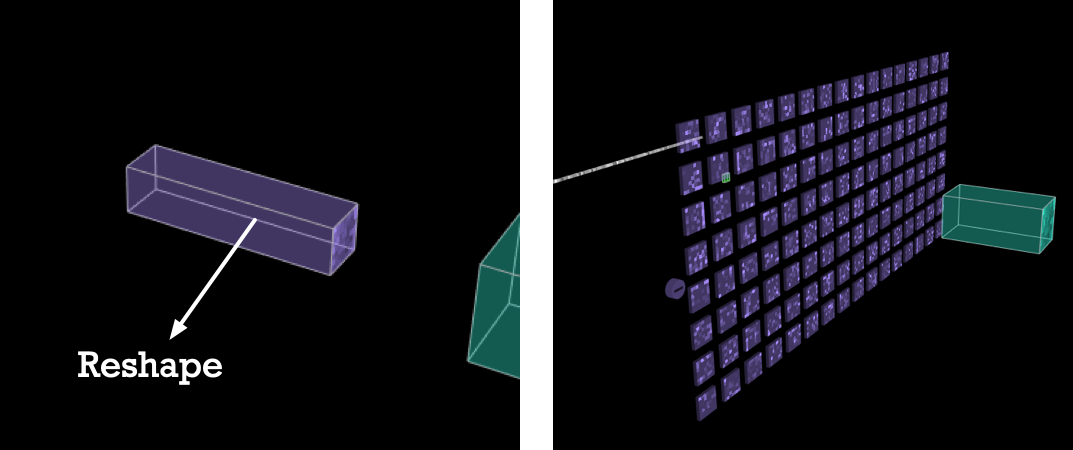 Arguments
Name

Tag

Type

Instruction

Usage Notes and Examples

targetShape

Int[]

Output shape,


Network Model Related

The product of both input and output shape dimension lengths should be the same.

shape

Int[]

Output shape,


Network Model Related

The usage of shape is the same as

targetShape

name

String

Name of the layer
For example,

name: "layerName"


In

Sequential Model

:

Highly recommend

to add a name attribute to make it easier to get Layer object from model.
In

Functional Model

: It is

required

to configure name attribute for TensorSpace Layer, and the name should be

the same

as the name of corresponding Layer in pre-trained model.

color

Color Format

Color of layer
Reshape's default color is light purple #A287F4

closeButton

Dict

Close button appearance control dict. More about close button

display: Bool. true[default] Show button, false Hide button

ratio: Int. Times to close button's normal size, default is 1, for example, set ratio to be 2, close button will become twice the normal size

initStatus

String

Layer initial status.

Open

or

Close

. More about Layer initial Status

close

[default]: Closed at beginning,


open

: Open at beginning

animeTime

Int

The speed of open and close animation
For example,

animeTime: 2000


means the animation time will last 2 seconds.


Note

: Configure animeTime in a specific layer will override model's animeTime configuration.
Properties
Methods
Examples
Use Case
When you add reshape layer with Keras | TensorFlow | tfjs in your model the corresponding API is Reshape in TensorSpace.
| Framework | Documentation |
| --- | --- |
| Keras | keras.layers.Reshape(target_shape) |
| TensorFlow | tf.reshape( tensor, shape ) |
| TensorFlow.js | tf.layers.reshape({targetShape: [2, 6]}) |
Source Code